Someone might ask you to pay for something by putting money on a gift card, like a Google Play or iTunes card, and then giving them the numbers on the back of the card. If they ask you to do this, they're trying to scam you. No real business or government agency will ever insist you pay them with a gift card. Anyone who demands to be paid with a gift card is a scammer. Read on to learn more about gift card scams.
What Gift Card Scams Looks Like
Gift cards are for gifts, not for payments. But they're popular with scammers because they're easy for people to find and buy, and they have fewer protections for buyers compared to some other payment options. They're more like cash: once you use the card, the money on it is gone. Scammers like this.
If someone calls you and demands that you pay them with gift cards, you can bet that a scammer is behind that call. Once they have the gift card number and the PIN, they have your money. Scammers may tell you many stories to get you to pay them with gift cards, but this is what usually happens:
The caller says it's urgent. The scammer says you have to pay right away or something terrible will happen. But you don't, and it won't.
The caller usually tells you which gift card to buy. They might say to put money on an eBay, Google Play, Target, or iTunes gift card. They might send you to a specific store — often Walmart, Target, CVS, or Walgreens. Sometimes they say to buy cards at several stores, so cashiers won't get suspicious. And, the caller might stay on the phone with you while you go to the store and load money onto the card. These are all signs of a scam.
The caller asks you for the gift card number and PIN. The card number and PIN on the back of the card let the scammer get the money you loaded onto the card. And the scammer gets it right away.
How Scammers Convince You To Pay With Gift Cards
Scammers pretend to be someone they're not to convince you to pay with gift cards. They want to scare or pressure you into acting quickly, so you don't have time to think or talk to someone you trust. Here's a list of common gift card scams and schemes:
What To Do If You Paid a Scammer With Gift Cards
If you paid a scammer with a gift card, tell the company that issued the card right away.
Contact information for popular gift card companies
Amazon
Ebay
Google Play
iTunes
Call Apple Support right away at 1 (800) 275-2273. Say "gift card" to connect with a live representative.
Ask if the money is still on the iTunes card. If so, Apple can put a freeze on it. You might be able to get your money back from them.
Keep the iTunes card itself and your receipt for the iTunes card.
Learn about iTunes gift card scams and how to report them.
Steam
If you have a Steam account, report gift card scams online. Click the "Purchases" option, then click, "I have charges from Steam that I didn't make." Then click, "Contact Steam Support."
Keep the Steam card itself and your receipt for the Steam card.
Learn about Steam gift card scams.
MoneyPak
Don't see your card on this list? Look for the company's contact information on the card itself, or do some research online to find out how to reach the card issuer. If you can't find the contact information or the card issuer doesn't want to talk to you, report it to the FTC.
Safely Buying and Using Gift Cards
Remember that gift cards are for gifts, not for payments. So if you buy gift cards to give away or donate:
Stick to stores you know and trust. Avoid buying from online auction sites because the cards may be fake or stolen.
Check it out before you buy it. Make sure the protective stickers are on the card and that they do not appear to have been tampered with. Also check that the PIN number on the back isn't showing. Get a different card if you spot a problem.
Keep your receipt. This, or the card's ID number, will help you file a report if you lose the gift card.
Report Fraud
If someone asks you to pay them with gift cards: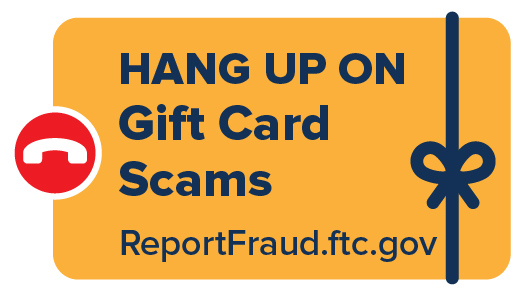 Report it to the Federal Trade Commission at ReportFraud.ftc.gov. Report it even if you didn't pay. Your report helps law enforcement stop scams.
You can also report it to your state attorney general.
If you lost money, also report it to local law enforcement. A police report may help when you deal with the card issuer.
Source: Federal Trade Commission, dated May 2019